Carlsen's Roping Management Program
Carlsen's Roping Management Program (RMP) is designed to assist in the production of team roping jackpots.  It will perform activities such as signing up teams or draw pot contestants, drawing partners, arranging teams for the roping, printing partner lists and timer sheets as well as keeping tracking of the times and winners of the roping.  The RMP is capable of producing numbered ropings, drawpots, pick & draw and round robin ropings.  At the end of the roping, the RMP will display reports of the winners, amount of money payed out and even track each contestants entrants fees.
Download (V3.10.1) the program to see how it will help in the production of your team roping events. This demo is fully functional, only limiting some views and reports to ten teams. Click to view the Release Notes.
---
---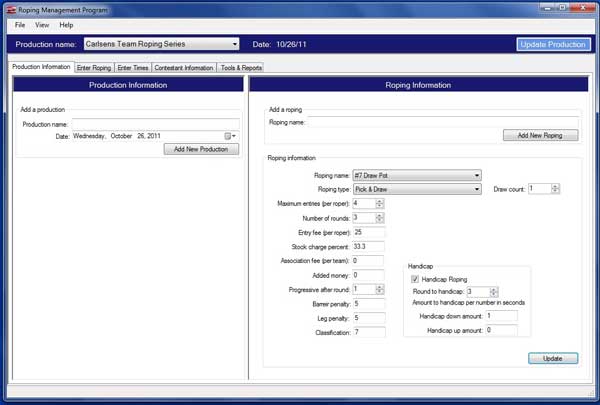 Each roping of the weekend can be easily defined and managed. The types of ropings possible are Draw Pots, Pick & Draw, Pick Only and Round Robin ropings. The ropings can be handicapped as well.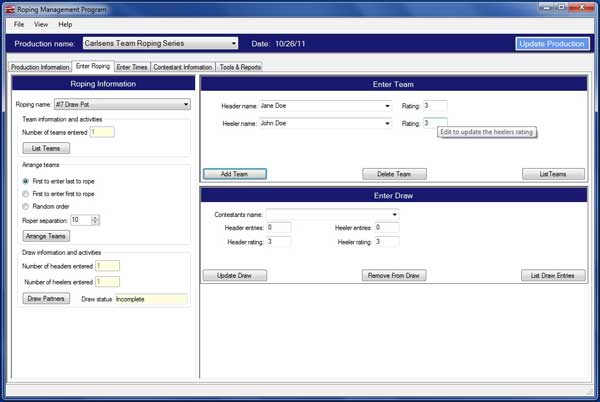 Once the ropings are defined, teams or draw entries can be entered. The computer keeps track of the number of times a contestant is entered into the roping and warns you if they have reached their maximum number allowed. Draws are conducted on this screen as well as arranging the teams.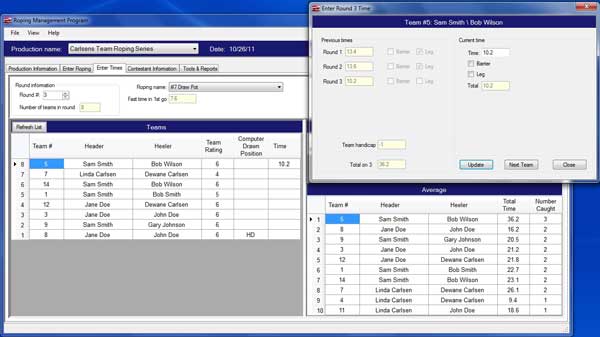 The team times are entered using a simple time entry form. The team's handicap and times are totaled. The Average placings show the team placings for the entire roping.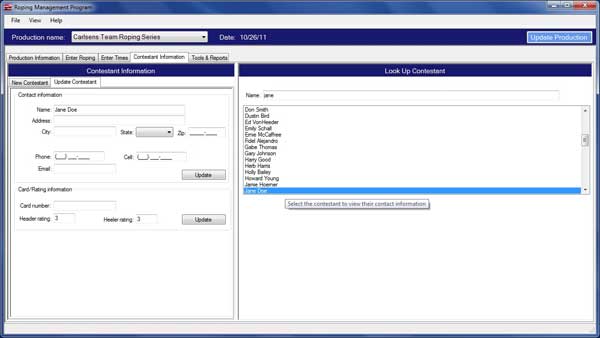 Contestant contact information as well as their card numbers and ratings are saved into the database for easy management.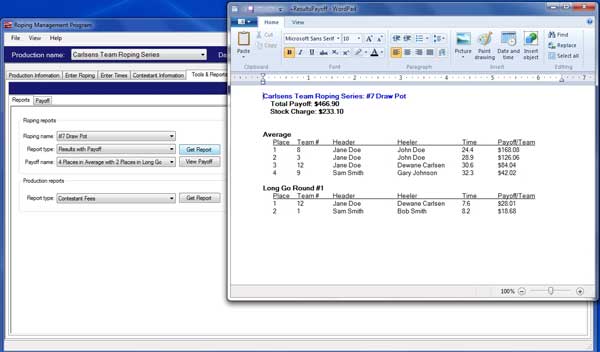 Results and payoffs can be generated on the Results and Tools page. Lists of the teams by name, draw entries, and timer sheets are also available. A contestants fees resport and production summary reports are also possible.